About Jean's Designs - Notes, Tips & History

Anyone can knit Jean's designs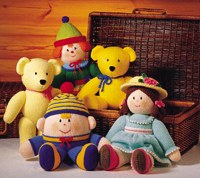 There are millions of enthusiastic knitters in the world already having lots of fun creating dolls and toys from my patterns.


But what about those of you who have never attempted to knit a doll? Or perhaps you have tried some patterns and been completely put off because they were too complicated, contained mistakes, or possibly the instructions were inadequate.

I guarantee you won't find any such problems in my work.


There are no complications in my designs - if you can knit, purl, increase and decrease you can make everything in my publications. I promise!

There are no mistakes in my patterns and I give full, detailed step-by-step instructions to guide you through every stage of the production.


In fact, my designs are so easy to knit that The Royal National Institute of the Blind has translated our patterns into Braille for the benefit of knitters with impaired vision. An example is shown below.
'Jean Greenhowe's Little Gift Dolls' in Braille
Still not convinced? Then take a look at the extracts from my fan mail to see what knitters themselves have to say about my designs.


You may also be pleased to hear that I don't use any fancy yarns - just double knitting yarn which is always available. This means that my patterns never date and the first dolls I designed in 1980 can still be knitted today.


But what you also get with my designs is the best entertainment ever. You will even find yourself knitting amazing things which would appear to be unknittable. Imagine knitting toothpaste, mushrooms, a camp fire, a desert island, ice-cream sundae or a Scottish bagpipe!



So why not pick up the needles and some oddments of yarn and knit a sweet Rainbow Baby from our free pattern. The feet, legs, body and head are knitted in one piece and the 'babygrow' garment is part of the doll. The only other pieces are the arms, cap and scarf. The doll requires about 25 grams (less than an ounce) of yarn oddments - how quickly can you knit an ounce of yarn?!

Why do millions of people knit my designs?

For lots of reasons! To begin with, creating three-dimensional characters is a fabulous craft in its own right and nothing at all like knitting garments. For those of you who only knit garments this requires some explanation.
Most knitted garments belong to the fashion world. So, a knitter will choose (for example) a sweater pattern to suit her lifestyle and to compliment other items in her wardrobe.
From the photograph on the pattern the knitter can see every detail of what she is about to knit. Modern patterns also have diagrams showing the shape of every piece in the garment. The knitter therefore picks up the needles knowing everything there is to know about the sweater, there won't be any surprises.
The knitting will be enjoyable, the end-result a pleasure to wear and there will no doubt be compliments upon the knitter's skill.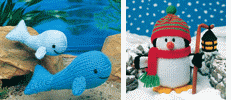 Even if you don't knit toys, your reaction to the adorable knitteds shown above can't be the same as your reaction to a line-up of knitted garments. These cuddlies have nothing to do with knitted wearables or fashion, they belong in the storybook, fairytale enchantment of the imagination. They exist as amusing three-dimensional characters in their own right. So, a knitter chooses one of my doll patterns because the smiley face and rosy cheeks appeal to her emotions.
Unlike knitted garments, the doll's photograph gives hardly any clues as to how the end-result will be achieved, because the various shapings are hidden in the three-dimensional construction. The knitter therefore picks up the needles trusting my pattern, not knowing what is going to happen. And so begins an intriguing and exciting adventure!
As the knitter makes the doll she finds out exactly how I achieved this or that effect. It is a wonderfully unique experience because she becomes completely involved in my original creative process. In fact, the knitter participates in my own voyage of discovery in the designing of the doll.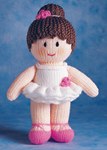 Stitch-by-stitch the doll comes to life and when completed there is a marvellous sense of achievement. The knitter has created a sweet little three-dimensional work of soft sculpture, just by following words on paper.
Family and friends who witnessed this wonder are astonished at the knitter's skill. She began with needles, yarn and a pattern, then by her own creative efforts, turned them into a lovable little poppet. Everyone wants one! A knitted scarf could never generate such affectionate reactions.
Here's another interesting fact. No two dolls or toys can ever look exactly alike, even when knitted from the same pattern, because knitters put something of themselves into the creation. Therefore, every reproduction has its own distinctive personality. It would be difficult to knit that special 'something of yourself' into a woolly hat.
And then there is the hilarious side of my designs where you get to knit the most amusing things. When anyone asks what you are knitting you can stop them in their tracks by answering 'Breakfast, glue, liquorice allsorts, a brick wall, a sandcastle.' Would 'Socks' have the same effect?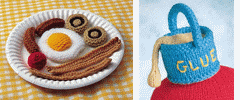 Perhaps best of all, with my designs you will never run out of reasons to knit. You can make them as gifts for birthdays, as mascots, for weddings, anniversaries, special occasions and decorations for Christmas … the list is endless.
You can knit them and win prizes at the shows and to raise funds for charity. There are so many wonderful ways to make others happy with your kindness and my patterns.


However, a word of warning. It is quite possible that once started you won't be able to stop. The dusting and ironing may become a thing of the past, but you will most certainly have joined millions of knitters who avoid the housework and knit smiles into the world!
Let the magic begin …
Click here to return to About Jean's Designs page.