Jean Greenhowe's Jiffyknits (28 pages)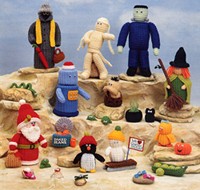 Click here to return to Jiffyknits pictures.
In the history of learning to knit there have never been any remotely interesting ideas for what to do with the beginner's very first efforts - garter stitch pieces. For many years Jean had been aware of this problem and eventually decided to do something about it.


And once Jean gets a knitted bee in her bonnet - she is unstoppable! She had a mission to boldly venture where no designer had gone before, to rescue those humble garter stitch pieces and transform them into fun-tastic creations. So now we'll step back and let Jean herself introduce you to the joys of Jiffyknitting.


'Hello from Jean


It is well-known that everyone learns to knit by making straight garter stitch strips. Yet the suggestions for using garter stitch pieces have always been the same - blanket squares, teddy scarves, headbands, purses. Where is the creativity, the fun which will spur beginners on to greater knitting achievements? So, I set myself a challenge to dream up some really inventive ideas for garter stitch pieces and Jiffyknits is the result - a treasure trove of wonderful things to make for anyone who has just learned to knit.


Now, wouldn't it be marvellous to teach someone the basics of knitting and then present them with a copy of Jiffyknits? Just imagine the joy when they discover that knitting garter stitch pieces can be so exciting and even hilarious!

Jiffyknitting clearly sends the message 'knitting is fun' and provides the enjoyment which is essential in order to encourage beginners to learn more about the craft.
But the designs in Jiffyknits reach far beyond beginners' projects. Those of you who can already knit will love them to bits because knitting straight garter stitch pieces can be fitted into any odd moment. There are no row-by-row instructions to follow, no shapings, no concentration, no hassle - you can knit them by the dozen using only tiny oddments of yarn.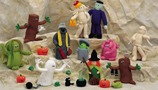 Best of all you can Jiffyknit watching television, travelling by bus and train, waiting for the plumber, in the doctor's or dentist's surgery, at the airport, in a taxi, in bed! It truly is a take-anywhere, do-anytime hobby.


After the knitting, you sew up the pieces and hey-presto they turn into amazing woolly wonders, such as the pumpkins shown below.


The left-hand illustration shows the two small garter stitch pieces which are required to make one of the Halloween pumpkins.
All the items in Jiffyknits are made from similar straight strips of garter stitch, in various sizes.
And now for the contents!




Children will adore our Halloween favourites. Knit cute Black Cats (10 stitches, 17 rows), or comical Pumpkins (small size, 10 stitches, 37 rows), or tiny Toads (8 stitches, 14 rows). But I promise you will refuse to part with The Invisible Man. My family said I couldn't do it but here he is ... or isn't? Who would believe you could knit a dozen or so Halloween makes from simple garter stitch pieces? And can you resist The Mummy's Mummy with her designer handbag and chic hat? She's a hoot!



In the Fast Food section there are around thirty yummy knits for breakfast, lunch, dinner and tea. You could open a

no-calorie cafe! Treat the children to a feast of mix and match knitted food - ideal for play groups and much nicer than the plastic variety.


For Christmas you will be Jiffyknitting dozens of colourful Tree Baubles and an amusing display of Snow People, Santa and Penguin - with sledge.



And for Easter, knit our cute Bunnies and Chicks.

Then there is the Gorilla and his Jungle Friends, the Robots, the Owl Family, Roly-Poly Fruit, Pop-up Toys and lots more.

With knitting enjoying a big revival there are Knit-Ins taking place everywhere. So, why not have Jiffyknit 'N' Chuckle get-togethers with your friends. What could be better - chat and knitting - a first-class combination!'